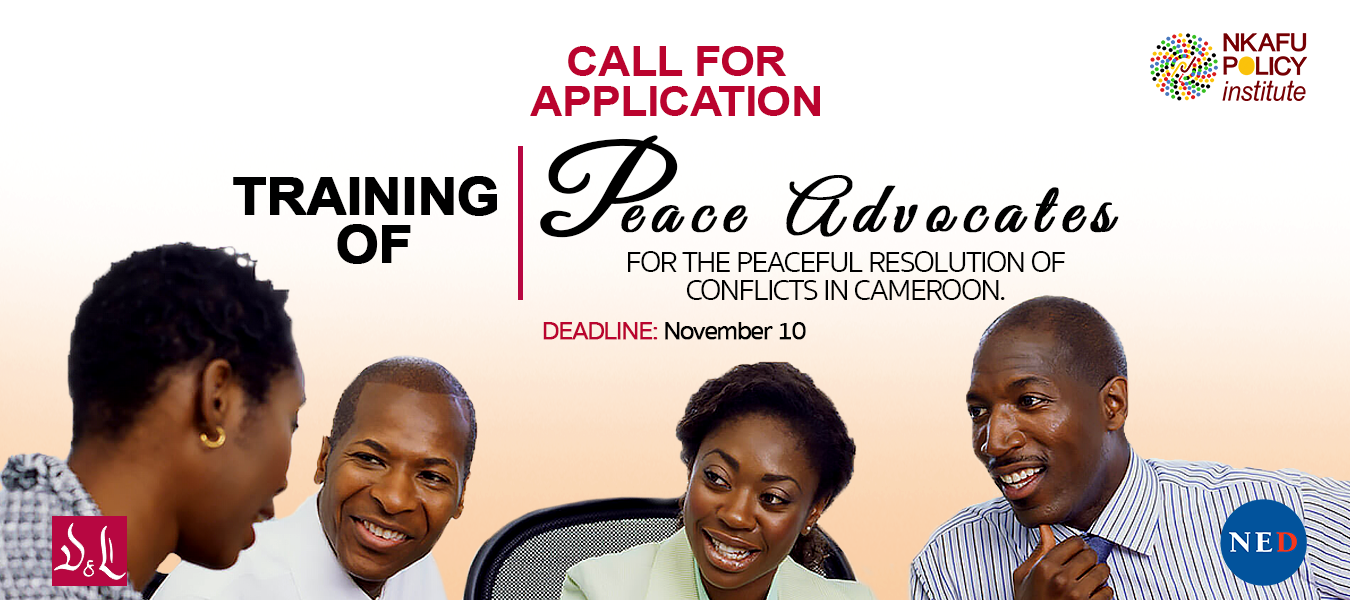 In joining voices and to move the talk for the need for a peaceful resolution of the current violent conflict in the NW and SW Regions of Cameroon, the Nkafu Policy Institute of the Denis & Lenora Foretia Foundation invites community leaders, peace advocates,  Civil society advocates, community leaders (including traditional authorities and church leaders), the media, students  etc to register for its recently instituted  project : "Promoting an Inclusive National Dialogue for a Peaceful Resolution of Conflicts in Cameroon."  Within this broad project, the Nkafu Policy Institute will host two leadership and capacity-building workshops in Buea and Bamenda for fifty (50) influential peace advocates from all ten regions of Cameroon. We believe that these different groups will be able to bridge Cameroon's tribal, cultural, political, and linguistic divides and promote peace in their respective communities.
OBJECTIVES
This training workshop will:
Give participants the opportunity to inspire their communities as Peace Advocates/Agents.
Give participants the tools and connections necessary to advocate for tolerance, justice, the rule of law, and respect for democratic principles.
Empower and enable participants to actively engage in local level decision-making processes and to the monitoring, prevention, management, resolution and transformation of conflicts in order to promote peace outcomes and social cohesion.
Encourage the peace advocates to speak publicly with the aim of contributing to peace.
Conduct a conflict critical analysis to understand best strategies in implementing peace processes in affected regions.
WHO CAN PARTICIPATE?
This training workshop gives equal chance to both men and women, from all the 10 regions of Cameroon;
It particularly targets youth and women leaders who have so far influenced their communities through their work for peace and development;
Civil society advocates, community leaders (including traditional authorities and church leaders), the media, students, etc.;
All those interested in contributing to peaceful and sustainable solutions to the current destructive conflict in the Anglophone NW and SW Regions in particular and Cameroon at large;
People who are actively involved in subjects related to peace, democracy, development, human rights and governance.
CRITERIA 
Have a strong track record with the local community/area where he/she works;
Possess strong communication and advocacy skills;
Be fluent in the English / French language;
Must be ready to cover all costs (Transportation, accommodation) to Limbe or Bamenda;
Have experience in promoting and supporting peace processes especially in initiating and facilitating stakeholder dialogues and mediation efforts.
NUMBER OF PARTICIPANTS
We are expecting to build the capacity of 50 peace advocates.
TRAINING DATES
Bamenda – December 5th 2019
Buea – December 3rd 2019
PARTICIPATION FEE
This training programme is funded by National Endowment for Democracy (NED). Hence, there is no registration or participation fee.
Deadline for application: November 20, 2019
HOW TO APPLY
Interested applicants must apply online.