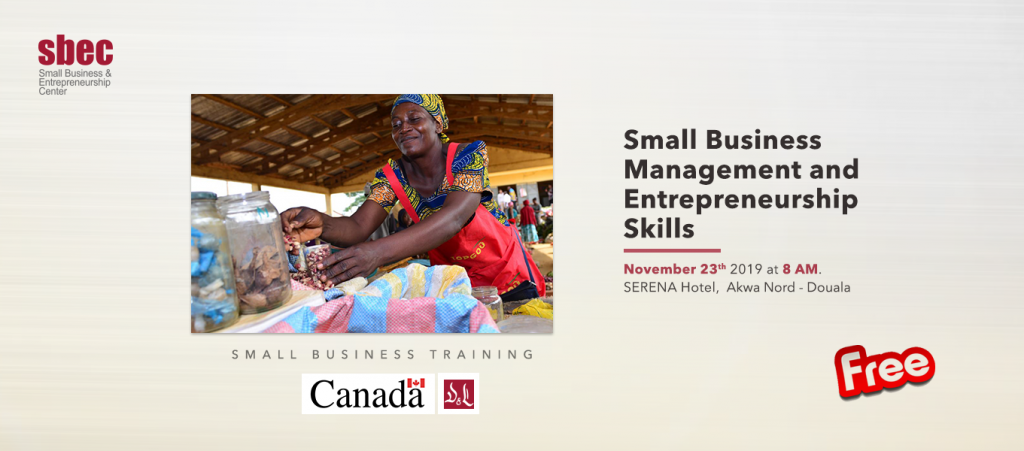 Small and Medium Size Enterprises (SMEs) contribute around 36% of Cameroon's GDP, make-up over 90% of businesses in Cameroon, and employ above 60% of the population. Yet, glaring realities indicate that enormous potentials inherent in this sector are unfortunately not fully-harnessed – especially given that more than 70% of SMEs still operate informally.
It is against this backdrop that the Small Business and Entrepreneurship Center (SBEC) at the Denis and Lenora Foretia Foundation is inviting small business owners in the formal and informal sectors, Business Women Associations, Farmers, Agribusiness persons, and all prospective business owners to apply to be a part of it's Training Workshop on
"Small Business Management and Entrepreneurship skills". 
This training organized within the framework of the Canadian Fund for Local Initiative (CFLI) project in Cameroon, will take place on Saturday November 23, 2019 at SERENA Hotel, Akwa-Nord Douala, Cameroon.
The Small Business and Entrepreneurship Center (SBEC) focuses on providing the tools for establishing and expanding businesses in the private sector to spur economic growth. The program also has a strong focus to empower women in the private sector and to grow small and medium size enterprises.
PURPOSE OF TRAINING
This workshop is aimed at:
Familiarising entrepreneurs with the available options for financing their businesses and how to access finance,
Equipping Entrepreneurs with basic managerial and financial management tools,
Acquaint Entrepreneurs with the different tax systems in Cameroon,
Demonstrate the importance of moving from the informal to the formal sector.
EXPECTED OUTCOMES
The participants of the workshop would be able to benefit from:
Understanding how to Finance their businesses through loans from financial institutions;
Transition from the informal to formal sectors by being registered and declare their taxes,
Adopt best practices in the management of their business ;
Register with the SBEC network and benefit from the services offered;
COST OF TRAINING
This training programme is funded by the Canadian Fund for Local Initiative project in Cameroon. Hence, there is no registration or participation fee.
DEADLINE FOR APPLICATION:
Saturday November 23, 2019
HOW TO APPLY
Interested applicants must apply online