A public debate organized by the Denis and Lenora Foretia Foundation within the framework of its Nkafu policy institute program brought together various economic experts to debate over what the best economic paradigm is, for the government of Cameroon to adopt, in order to safely land at the shores of vision 2035 emergence. The theme for the debate was "should Cameroon become a totally Free-Market Society?" that's continuous government intervention or free market reforms.
To understand the benefits and challenges of free market economies, same as for governments intervention, renown economists and researchers like Dr Louis-Marie Kakdeu of the Nkafu policy institute, and Mr Christian Amouo of Mougano Investment, argued for the motion while Dr Ariel Ngnitedem of University of Yaoundé 1 and Dr Jean-Faustin Kaffo of the Ministry of Economy and Planning stood against.
Dr Kakdeu argued that a free economy will increase the level of competition amongst producers which enables resources to be orientated where they are most efficiently utilized, and as a result, gives consumers the latitude of wider choices to select from. Dr Ngnitedem rather believes that, "sometimes markets do fail, especially when the demand are not met and when equity problem sets in, thus needing governments intervention."
 "Being a poor country, Governments intervention is still needed to make sure there's inclusive development. In a developing country, the best economic indicator should not be the GDP growth rate but rather the human development index…. and in order to achieve a better human development index, our developing counties should allow governments intervention," he added.
"In 1988, Cameroon had 188 state own enterprises and by 2018 only 28 were left but 14 out of the 28 that still exist, have failed to be more productive and always needing governments subvention to survive. Camairco, Camtel and Simri fall under this category" Dr Kakdeu reiterated.
According to Dr Kaffo, an open or free market will be suicidal for local industries that cannot effectively compete with foreign companies or producers.
The debate, comes within the context of Cameroon facing major structural challenges and negative blows including an alarming poverty level, the state being the largest employer and recent currency crisis as well as the high insecurity in the crisis regions of Far North (Boko haram threads), and the Southwest and Northwest (secessionist war)
UB Health Science Student wins First Prize of National Essay Writing Competition (topic; free market: gateway to an Upper Middle Economy in Cameroon)
Motika Lucia, 24, student in the Faculty of Health Sciences, University of Buea, ferried home the cash prize of 200.000 FRS cfa after emerging as winner of the 2019 national essay competition with an average of 16.62/20. This, ahead of Clinton Tumenta from Yaoundé with a score of 15.62/20 and Maxwell Fombutu, Agro-economics student in the Bamenda University of Science and Technology scoring 15.25/20.
Mr Ulrich D'pola of the Nkafu policy institute explained that, the essay competition was launched between July to August inviting young Cameroonians below the age of 25, to address the issue of economic development, what model to follow between economic aids or economic freedom? He also noted that the competition torched 5 regions of the country with majority being female candidates (F=56.25% Vs M=43.75%) showing that young female in Cameroon are really concerned by the economic situation of the country.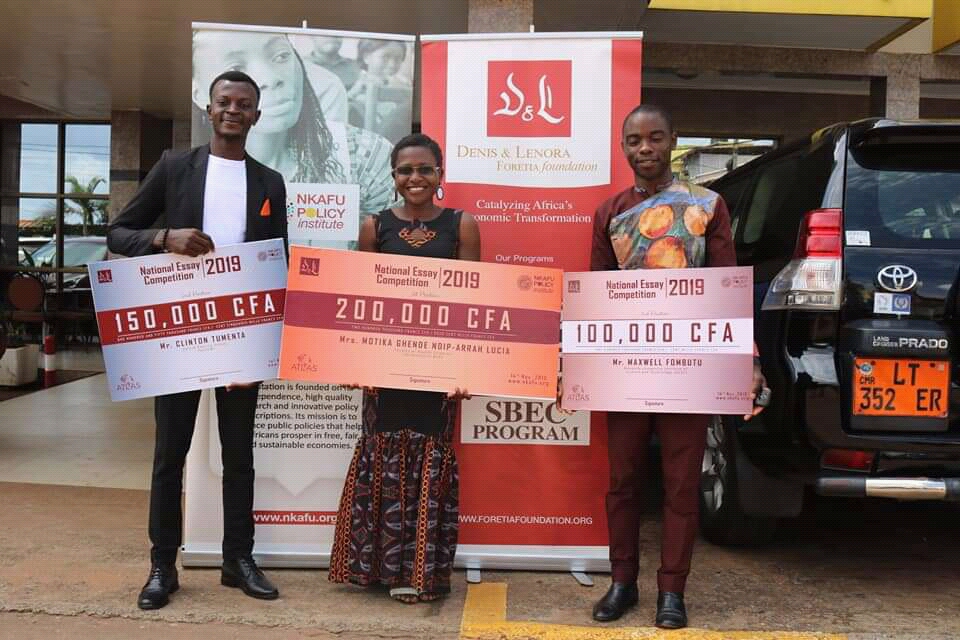 While expressing her joy, Lucia said the award motivates her to take up other challenges out of the medical fields and to invest more of her time in writing.
This Nkafu debates series n.3 brought together economists, government officials, entrepreneurs, academics and researchers, students amongst others to converge on Mansel Hotel, Yaounde. Meanwhile, the STEM awards of the Denis and Lenora Foretia Foundation was announced for November 30, 2019.
Source: Pan African Visions
Others Related articles:
https://www.bantuvoices.org/nkafu-debates-examine-cameroons-market-systems-experts-cross-views/