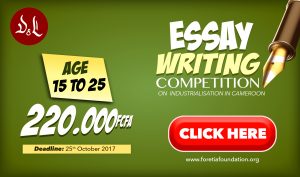 With the intention to mobilize the commitment of the international community to the Industrialization of Africa, the United Nations Organization decided, during its 1989 general Assembly session to declare November 20th "African Industrialization Day". Since then, numerous countries and institutions with a stake, in Africa's industrialization, have celebrated this day.
The Nkafu Policy Institute, a Cameroonian Think Tank at the Denis & Lenora Foretia Foundation joins the international community to celebrate this day. In view of that, the Nkafu Policy Institute hereby announces an essay competition to run from Monday September 25, 2017 to Wednesday October 25, 2017. This competition is aimed at engaging the Cameroonian youth in the current debate on Cameroon's industrialization and what path the country can take in this light to achieve the 2035 goals.
Topics:
Prerequisites for inclusive and sustainable industrialization in Cameroon.
The challenges of financing industrialization in Cameroon.
Priority sectors of industrialization in Cameroon.
Criteria:
Participants be Cameroonians within the age group of 15 to 25 and girls are particularly encouraged to participate.
Articles must meet the following criteria:
They must be written in not more than 1000 words;
The text must be clear and coherent, written in French or English.
Information disclosed must be relevant and reliable;
The organization of ideas will have to meet the objectives of the subject treated with very relevant arguments and ideas.
The article should provide new content or critical analysis that could be used as a guide for decision-makers;
The concepts raised must be clearly defined with appropriate and relevant references;
Findings, recommendations and suggestions should be clearly stated;
The article should be easy to understand to a non-specialist reader of the issue being addressed.
Reward
The first three best-written essays, in terms of both technical content and grammar will be awarded a modest Prize/ Compensation during the Industrialization day discussion to be organized by the Foundation on 20 November. The prizes are as follows:
1st Prize: 100,000 FCFCA
2nd Prize: 70,000 FCFA
3rd Prize: 50,000 FCFA
The Foundation will cover the travel and logistics of finalists who are not based in Yaounde.
Submission Deadline: 31 October, 2017 at 17:00
Follow this link to submit your essays: